Party Flier.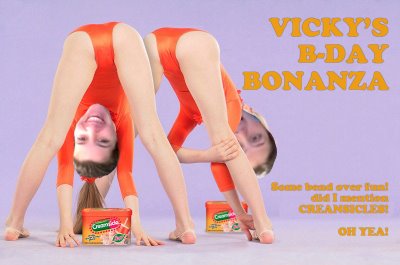 Hi all. The following post is to give credit to whom credit is due.
"Vicki" I work with Vicki. She has been featured on Jerry's side on the isight. She is turning 30 and is having a Birthday Party at the Fat Black Pussy Cat, Saturday night at 10:30pm. She is cool.
"Jerry" Graphic Designer at Large. My Boyfriend. My Roommate. Part child-genius. Loves long walks on the beach. Skilled in the art of Photoshopping.
"Amanda" Blogger. Troublemaker. Spends too much $$$$. Thinks Jerry is the coolest thing since sliced bread. Would be miz without Vicki on a daily basis.