Be Mine.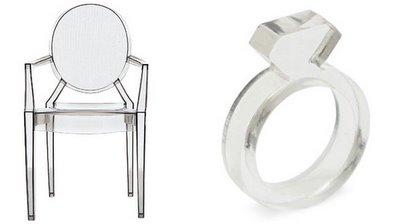 He gets in for free anyways, but hes still a member for all those goodies....Thanks to my proud member of Moma, My collection of clear collectibles.
L.
Louis Ghost Armchair
Philippe Starck, 2002
Starck fashioned a classic Louis XVI chair in transparent, colored polycarbonate, giving new life to a well-known form. Louis Ghost is a daring example of a single-mold injection product for indoor and outdoor use. It has a strong, charismatic presence and great aesthetic appeal for a Ghostly Christmas present that hid from me for a few hours in the apartment. Made for Kartell.
R.
"Diamond" Ring, Clear Acrylic
Alissia Melka-Teichroew, 2003
There are no diamonds in Alissia Melka-Teichroew's rings, simply a thought-provoking silhouette imitating the conventional Tiffany setting. Wearers create their own traditions, meanings, and stories. Jerry said, "Happy Valentines Day!" Made of Acrylic.