Trippin to Cali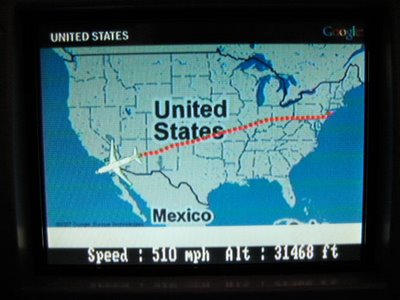 This trip started on a rainy note. Then finding a cab with no idea which way to go, getting stuck in gridlock traffic for god knows what reason. But then there it was "the light" that one livery driver daring to go down an UP ramp, backwards mind you, soon another vehicle, then every one just up and decided to drive down the ramp. Driving on a service road passing a few lights and back on the highway with not a sign of traffic in sight. Our trip was back on course. We breezed through security, manuvered our way through the terminal, hopped on board and away we go...
Flight attendant serviced:
- Dunkin Donuts coffee & a bottle of water
- Sierra chips (blue chips), and some animal crackers
- some chocolate chip cookies
- hot tea
- 100 calorie snacks
Vehicle Rental:
Enterprise - Chevy HHR LS
Insurance provided by - American Express ($25 for 40 days)
After arriving in Manhattan beach we rested and got situated and then headed to Fatburger for some lunch. For a digestive walk we went over to the beach and shopped around and eventually ended up at the mall for some Baby Gap shopping. The evening was then topped off with some guests from www.mondrianplayavista.com and a feast of El Pollo Loco.